Where to Find the Best Murals in San Antonio
11 May 2023|San Antonio Street Art Pointer
San Antonio, Texas is a city known for its rich history, cultural diversity, and vibrant art scene. One of the most unique and exciting aspects of the city's art scene is the abundance of colorful and captivating murals. From massive, intricate works of art to small, hidden gems, there's no shortage of amazing murals to discover in our beautiful city. In this article, I will guide you through some of the best murals and where you can find these incredible works of art.
But before you embark on this artistic adventure, consider booking a San Antonio Street Art Tour for a one of a kind experience. During our guided walking tour you'll have the opportunity to admire over 20 diverse and captivating murals. Capture the magic of each mural with Polaroid pictures taken during the tour, and bring home souvenirs of your visit to San Antonio.

Greetings from San Antonio Mural by SpookySZNco
Located at the intersection of St. Mary's and Quincy, "Greetings from San Antonio" is a vibrant and colorful mural that's become an iconic landmark in the city. The mural features the words "Greetings from San Antonio" in a style inspired by vintage postcards, with images of iconic San Antonio landmarks like the Alamo, the Tower of the Americas, and the Pearl to mention a few.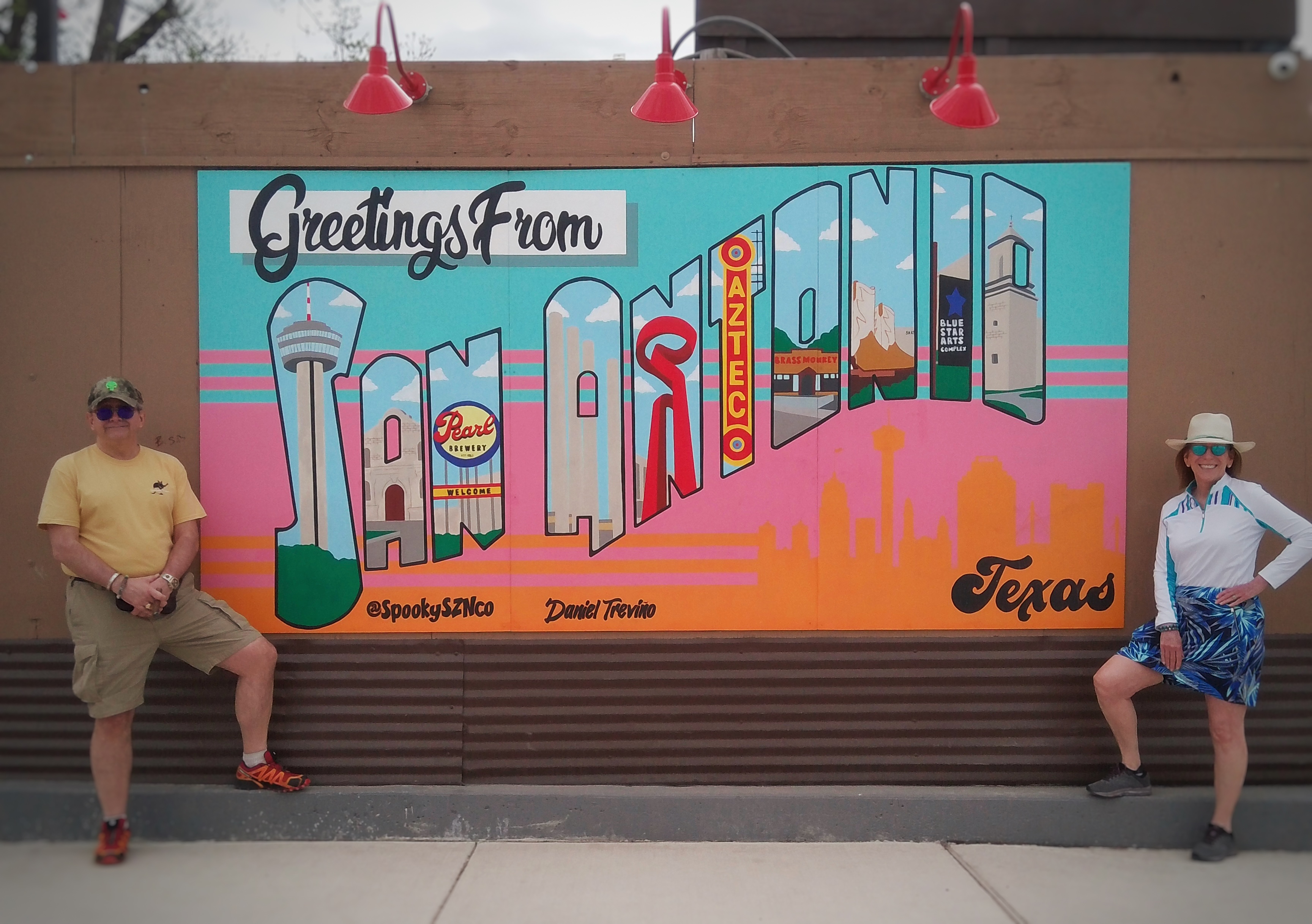 Breakfast Tacos Mural by Eva Sanchez
The Breakfast Tacos mural by Eva Sanchez located on 2332 N St. Mary's is a colorful and playful work of art that celebrates one of the city's favorite traditions, the breakfast tacos. Whether you're a local or a visitor to San Antonio, this mural is a must-see for anyone who loves breakfast tacos and wants to capture a fun and memorable photo.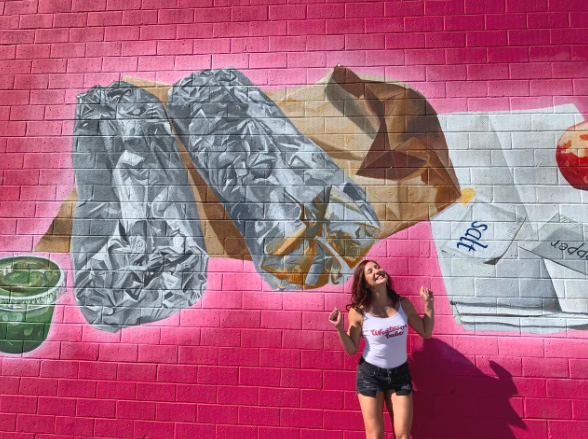 The Last Parade Mural by Rudy Herrera
Rudy Herrera's "The Last Parade" is the most recent addition to the "Art Everywhere" project by Centro San Antonio, showcasing public art in the downtown area. Measuring approximately 70 feet in width and 100 feet in height, Herrera's mural features a vibrant display of abstract art honoring significant aspects of his life, including his heritage. The Kress building on East Houston Street provides a canvas for this colorful portrayal, and the mural's striking hues capture the viewer's attention.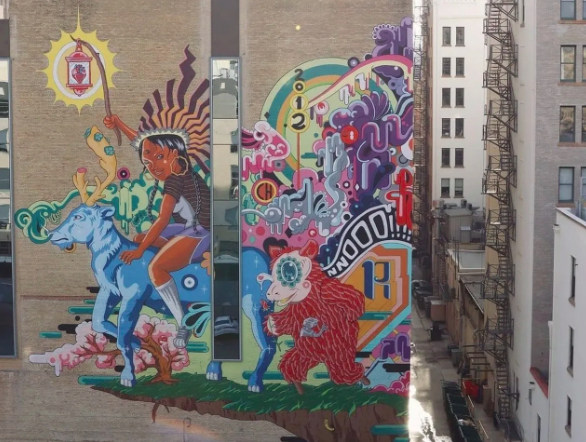 SA IS Amor by Martha Martinez-Flores
The SA IS AMOR mural located on 240 Broadway is a movement that aims to spread love, celebrate our city, and assist our community. It was founded by Martha Martinez-Flores during the COVID-19 pandemic, driven by her desire to contribute more to her city.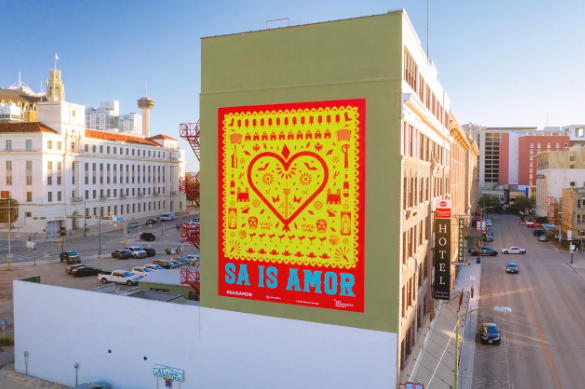 Fiesta Mural by Los Otros Murals
The Let's Fiesta mural, created by Los Otros Murals is located on 2515 N. St. Mary's, and it is a vibrant celebration of the city's rich cultural heritage and its love for fiestas. The mural bursts with an explosion of vivid colors, depicting iconic symbols of San Antonio's fiesta spirit, such as papel picado, mariachis, piñatas, and vibrant traditional costumes.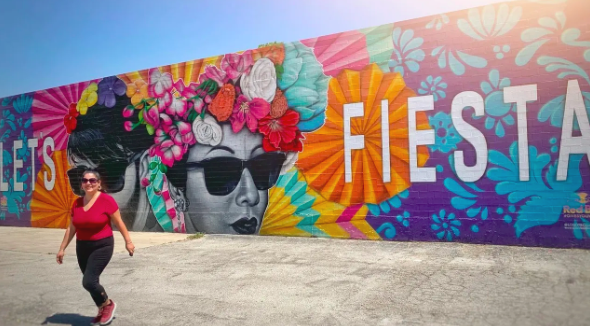 George Straight Mural by Matt Tumlinson
The George Strait's mural located on 2515 N St. Mary's, was created by Matt Tumilson. This mural is a masterful tribute to the legendary country music icon. It stands as a beloved landmark and tribute to Strait's significant contributions to country music, allowing fans to celebrate his legendary talent.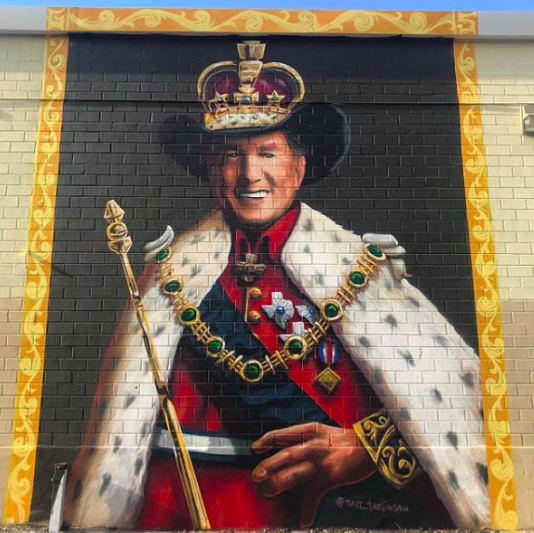 Dia de los muertos Mural by Paul Garson
The Dia de los Muertos mural by Paul Garson is located at the Interstate 35 underpass where Quincy and St. Mary's streets meet. This mural serves as a powerful reminder of the importance of remembering and celebrating the lives of loved ones who have passed away, while also showcasing the diversity and cultural heritage of our city of San Antonio.