Dia de los Muertos, or the Day of the Dead, is a beloved Mexican tradition that has found a special home in San Antonio, Texas. This festive holiday, celebrated from October 31st to November 2nd, is a time to honor and remember loved ones who have passed away. In this article, we'll delve into the rich history and unique ways San Antonio celebrates Dia de los Muertos.
History of Día de los Muertos
Dia de los Muertos has deep roots in Mexican and Indigenous cultures, dating back thousands of years. It's a fusion of Aztec beliefs and Catholicism, resulting in a colorful and unique celebration that combines remembrance, spirituality, and festivity. In San Antonio, a city with a significant Mexican heritage, this tradition has flourished and become an integral part of the local culture.
San Antonio celebrates Dia de los Muertos with a variety of traditions. Many people build altars in their homes to honor their loved ones who have passed away. The altars are decorated with candles, flowers, photos, and other items that were important to the deceased.
Special foods are also eaten during Día de los Muertos. Pan de muerto (bread of the dead) is a sweet bread that is shaped like a skull or a cross. Other popular foods include tamales, mole, and calaveras de azúcar (sugar skulls).
Altars and Ofrendas
One of the most iconic aspects of Día de los Muertos is the creation of altars, known as "ofrendas." These ofrendas are dedicated to deceased family members and friends and are adorned with their favorite foods, drinks, and mementos. The altars often feature marigold flowers, sugar skulls, candles, and incense, creating a beautiful and aromatic tribute.
San Antonio residents take great pride in constructing elaborate ofrendas, which can be found in homes, community centers, and even businesses throughout the city during the holiday. These altars serve as a heartfelt way to remember and celebrate the lives of those who are no longer with us.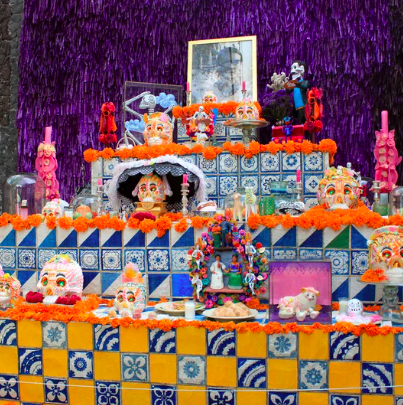 Events and Activities in San Antonio
There are many events and activities that take place throughout San Antonio during Día de los Muertos. Some of the most popular events include:
Dia de los Muertos in San Antonio is a magical and heartwarming celebration that combines tradition, spirituality, and vibrant festivity. The city's rich Mexican heritage is beautifully displayed through ofrendas, face painting, processions, and candlelight vigils. The deep sense of community and togetherness during this holiday is something truly special, making it a must-experience event for both locals and visitors.
Join us in San Antonio this Dia de los Muertos and be a part of this wonderful tradition that celebrates the lives of those who have passed away and the enduring bonds of family and community.
If you're planning a visit to San Antonio during Dia de los Muertos or any other time of the year, make sure to explore our San Antonio Street Art Tour. We offer a unique way to discover the city's vibrant art scene, including murals and street art that reflect the cultural diversity of San Antonio.