What Locals Love About San Antonio That You'll Love Too
29 March 2023
Published on December 1, 2022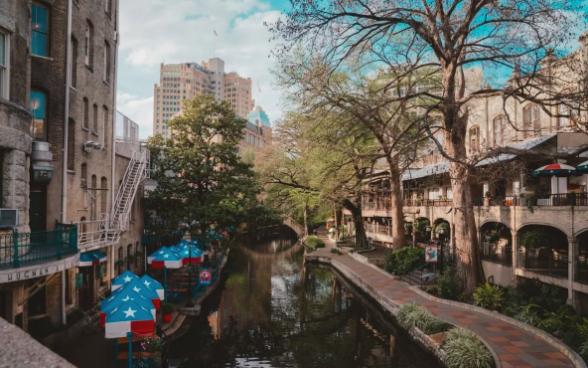 Home to nearly 1.5 million people, San Antonio still offers small-town vibes with its neighborhoods, green spaces, and river-side strolls. Commonly referred to as the "Alamo City," there are many reasons why locals love San Antonio and choose to call it home.
Maybe you're renting in one of San Antonio's many neighborhoods, perhaps a townhouse in Monte Vista or a high-rise unit in downtown San Antonio, and are wanting to get to know your new city better. Or maybe you're curious about what it's like to live in San Antonio before moving cross-country. Either way, here's a local's take on what makes their city so great.
The San Antonio neighborhoods
Through San Antonio's history of diversity comes a colorful and welcoming culture throughout the city, offering locals new and exciting experiences. There's countless unique and dynamic neighborhoods, so if you're planning on moving to San Antonio, you'll find a neighborhood that's perfect for you.
"Having come from Atlanta and New Orleans, we found the neighborhood aspect of San Antonio so familiar," share John and Elise Russ, owners and chefs at Clementine. "We love the genuine neighborhood feeling we get from living here. Each part of town has its own identity, be it rich in culture, exciting, fancy, authentic, historical, or brand-new. We arrived in 2012, intending to stay for a year and move on. But, we were hooked and have made our family and started our business here."
The friendly environment
There are plenty of events, attractions, and things to do in San Antonio. From museums and theme parks to Rodeos and festivals, you won't have to worry about getting bored.
"San Antonio is a wonderful place to raise a family," states At Last Entertainment, a San Antonio event entertainment service. "We have been so impressed by the community and activities available to young families. One of our favorites is The DoSeum Museum. Our children spend hours immersed in creative, educational activities."
From the cultural, eclectic hotspots of the downtown and Southtown areas to the more rural, rustic-feeling areas of the beautiful Texas Hill Country, there is a wide variety of events and destinations to be experienced by all," says San Antonio lifestyle blogger Tammy Dominguez of Living in SATX. "And, my favorite parts of living in San Antonio are the incredible people and family-centric sense of community. It doesn't matter if you have lived here for two days, 20 years, or all of your life – San Antonians are known for being some of the friendliest, most welcoming, and down-to-earth people."
Experiencing the Museum of Art and the McNay Art Museum
The Museum of Art spans 5,000 years of global culture and has an impressive collection of art. "The San Antonio Museum of Art is located downtown in the former Lone Star Brewery," shares 1000 Museums. "It is known for its collections in ancient art, contemporary art, as well as an incredible Latin American folk art collection." In addition to the collections and rotating exhibits, the museum hosts events like children's art contests and artist conversations.
San Antonio food bloggers Phil and Stacey of Today is Someday recommend checking out the restaurant inside the museum. "Hidden inside the San Antonio Museum of Art is an eatery you will want to visit, even if art is not your thing. Tre Trattoria sits along a quiet section of the River Walk, offering lovely views and outdoor seating. I can vouch for the beets, they are divine."
"For modern art, visit the McNay Art Museum," suggests 1000 Museums. As the first modern art museum in Texas, the Mcnay Art Museum brings paintings, sculptures, works on paper, and more throughout its 25-acre campus.
Going to the Fiesta San Antonio
Fiesta San Antonio in Texas first originated in 1891 and is now an 11-day celebration, honoring heroes of the Alamo and the Battle of San Jacinto.
Rad Season, a hub for festivals and celebrations, explains further, "The Fiesta hosts events at various locations throughout San Antonio catering to every age with live entertainment, special guest appearances, door prizes, vendors, and more. You can also watch several parades, including the Fiesta Military Parade, Fiesta Especial 5K & Parade, and The Texas Cavaliers River Parade."
San Antonio's vibrant food scene
If you're new to the Alamo City, you'll quickly learn it has a food and drink scene bursting with flavor and fun, bringing exciting new concepts to life.
"Austin may be a hit destination for gastro-nomads, but the Lone Star State has another food haven you can't miss: San Antonio," explains TasteAtlas, a guide to traditional food in different parts of the world. "It's the birthplace of hearty dishes like puffy tacos, bean burgers, and chili con carne. This city offers an eclectic fusion of Mexican and U.S. culinary traditions. When it comes to iconic local food places, San Antonians swear by Ray's Drive Inn or Henry's for some crispy, puffy tacos, and the bean burger, which Lonely Planet described as a 'deliciously unholy alliance,' and is best eaten at Chris Madrids. Pair that with a tall glass of a chispa margarita, mangonada, or michelada at some of the well-known local bars, like Rosario's or Social Spot."
Spending time on the River Walk
The San Antonio Riverwalk is located in the heart of the city, offering locals dining, shopping, and cultural experiences. Explore by foot along the river's walking path or jump aboard a river barge for a ride and guided tour.
Writer Janis Turk of the travel site GoNOMAD explains how she feels connected with the San Antonio River. "I feel the pumping, love-flowing heart of San Antonio when I'm gliding on the San Antonio River in a GO RIO river shuttle, traveling up to the Museum Reach along the River Walk. Everything grows quiet and still as I leave the tourist throng downtown. Glorious greenery lines the banks, and buildings like the Tobin Center for the Arts and San Antonio Museum of Art sparkle in the sun. When I hike, bike, or kayak down the Mission Reach and see Mission San Jose or Mission Espada, I feel the richness of San Antonio's 300-year-old story and wonder about all those long before me who lived here and loved the river as well."
"Something magical happens while strolling the San Antonio River Walk," explains travel blogger Finding Kathy Brown. "It's how one can have remarkably various experiences, all in an incredible location. One minute the path leads you through romantic passageways along the water. The next minute you are dining in first-class restaurants and exploring luxury hotels. Around the next bend, you will find yourself in a party atmosphere ripe with excitement and flowing drinks. No matter what a visitor's mood or travel desires, something is found for everyone along the 15 miles of the iconic 15-mile river walk."
The mix of city and country
"You can live in/or escape to the Hill Country but have easy access to big city amenities like performances at The Majestic Theatre, luxury shopping at The Shops at La Cantera, and compelling art at museums like the McNay Art Museum and San Antonio Museum of Art," shares blogger Kelly Lee.
"I love the infusion of Mexican culture and history. From the Alamo and touring the Missions to boat rides down the River Walk to Fiesta and NIOSA celebrations and strolling El Mercado (Market Square), it's lovely living around so much vibrant heritage."
The diversity and culture
"San Antonio is a city of diversity and culture, and much more than just the typical "fiesta" narrative," says Kent Oliver, owner of The Dakota East Side Ice House restaurant. "Jazz and blues from the East side are tempered by Conjunto and Tejano music from the South and West. A true melting pot of people from all social and economic backgrounds. Our communities have a rich history just waiting for you to explore."
"Being a Hispanic, living here makes me feel welcomed and part of the community," shares Nallely Fuentes, Founder and Owner of San Antonio Street Art Tour. "Our city has a strong Hispanic influence that is embraced through festivals and celebrations like the Luminaria: Contemporary Arts Festival, the Conjunto Music Festival, and the largest Día De Los Muertos celebration in the U.S. San Antonio is home to one of the largest outdoor art galleries in Texas where you can explore and immerse yourself in San Antonio's culture through the art of our very talented local artists. Lastly, we can't forget about the food! San Antonio is the birthplace of Tex-Mex cuisine. Nothing better than our breakfast tacos, the puffy taco, or barbacoa with Big Red."
The endless number of things to do
"San Antonio is a city that truly has it all," states travel blogger This is Mel Drake. "From visiting historical sites like The Alamo and Mission San Jose to sipping margaritas on the River Walk at sunset. Cheer on the San Antonio Spurs NBA team or hang out with friends in downtown Pearl District—there's no shortage of things worth doing here. And if you are looking for an extra bit (or lots) of spice, I highly recommend the Drag Queen champagne brunch. I guarantee everyone will leave happy. Honestly, there aren't enough words to describe how incredible San Antonio is – you'll have to visit and see for yourself."
"There is something so special about San Antonio," says blogger Lisa Alfaro. "Living near the city center allows us to explore daily. Within minutes we're strolling on the River Walk, eating in Southtown, and enjoying family fun at the Museum, Witte Musem, Zoo, or Botanical Garden. My absolute favorite time of year is coming up, and you can almost taste the excitement of Christmas time in San Antonio."
Enjoying a meal along the river
"Strolling along the River Walk is the most relaxing feature the city offers," says Nora Clausen, President of Far & Wide travel site. "The restaurants fill the air with various flavors and aromas from many cuisines. When you dine near the river, the sights and sounds draw your attention to passenger-filled boats, showing excitement and anticipation of what's around the next bend. Each venue pairs its menu with wine selections, keeping with any aficionado's scrutiny. Upon choosing an entrée, exquisite taste, and quality of presentation will dazzle your senses, carrying you back to the old-world charm and tradition your venue has offered. Your after-dinner stroll, featuring the lights and distant chatter of patrons in celebration, provides the romantic ambiance romance to mind, giving way to your imagination of another version of Paris or Venice rolled up into one; San Antonio's River Walk."
Strolling through the Historic Pearl neighborhood
The Pearl District, formerly known as the Industrial District, has done a great job at upholding the historic buildings and charm while adding a hip and vibrant edge to the neighborhood. Comprised of locally-owned shops, restaurants, coffee shops, and more, it's easy to spend a day strolling the streets.
"San Antonio embodies a warm, inviting, multicultural experience," says San Antonio local and writer of Over 50 Feeling 40, Pamela Lutrell. I tell my readers a must-see is the entire Historic Pearl, from the splash pad for children to the music, the eateries, the shops and vendors, and then to the fabulous architecture featuring the amazing Hotel Emma. Plus, it is just a splash away from the River Walk where you can enjoy a beautiful walk with an all-natural ice cream cone from Lick."
The blend of old and new
In 1718, San Antonio became the first civilian settlement in Texas, founded by San Antonio de Béxar. Today, San Antonio's early architectural and cultural elements still remain and provide a glance into the early Spanish colonial life in the Southwest.
"One of my favorite parts about San Antonio is the mix of old and new," shares travel blogger Carri Willbanks of Catch Carri. "The city retains history but also has no shortage of new experiences and offerings leaving its locals always entertained. Some of my top recommendations are seeing the River Walk by boat on a guided tour and also checking out newer neighborhoods like the Pearl with local shops and restaurants. It's also a city that is easy to navigate and offers options for all travelers."
"What I love about my city is that there are so many historical places and modern areas as well," states local blogger Brenda Cisneros of Mejorando Mi Hogar. One of my favorite places is The Historic Pearl, a lovely place located at an old brewery with a great atmosphere. I like walking around The Pearl, eating at some of its restaurants, enjoying cultural events, taking photos, and the weekend Farmer's market. It's within walking distance from the picturesque San Antonio River Walk, another of my favorite attractions."
San Antonio's small-town feel
"Given that San Antonio is the 7th largest city in the U.S., I was surprised by the small-town feeling," shares Annick Lenoir-Peek, travel writer and blogger of The Common Traveler. "People are friendly and happy to help each other out, welcoming newcomers with open arms. And they're always happy to recommend fun things to do and places to eat. One of the best things to do in San Antonio is hunt for ghosts at the Alamo and downtown."
The care, commitment, and service
Care, commitment, and service is part of San Antonian's DNA. For example, Morgan's Inclusion Initiative oversees five fully-inclusive, Ultra-Accessible™ facilities for people of all ages and all abilities can come together.
Morgan's Wonderland is a 25-acre, Ultra-Accessible™ oasis of inclusion. From the wheelchair-accessible Ferris wheel to the multi-assistance center providing services to those with disabilities and special needs, Morgan's Wonderland thrives because of the love and compassion of San Antonio's community.