5 Reasons Why You Should Go on a San Antonio Street Art Tour
19 May 2023|San Antonio Street Art Pointer
Attention, street art enthusiasts! If you're yearning for an immersive experience in the captivating world of San Antonio street art, look no further than San Antonio Street Art Tour. Today we will explore five reasons why our tour is an experience you don't want to miss out.
Experience the culture and art scene of San Antonio, Texas
Street art serves as a powerful reflection of a city's culture and identity, and San Antonio is no exception. As you walk the streets, you'll witness the unique blend of Texan, Mexican, and indigenous influences that shape the artistic landscape. Engage with the local culture, as street art becomes a lens through which you can understand the stories, struggles, and aspirations of the community.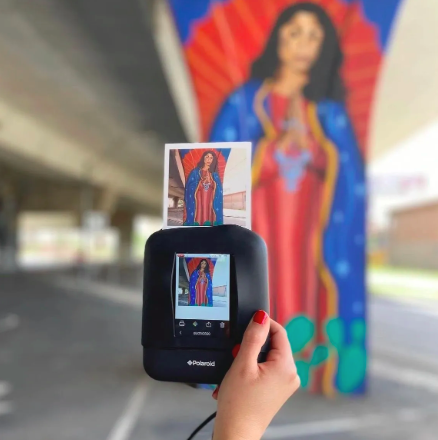 Learn from an expert guide
In our tour you get to explore San Antonio's street art with an expert guide who brings the murals to life and shares insights into the local artists. Get ready to discover the stories behind the art and gain a new appreciation for the city's vibrant culture.
Take home tangible memories of your tour
San Antonio Street Art Tour is the first and only tour to offer Polaroid pictures, allowing you to capture the best murals in a unique way and take home your own personalized memories and souvenirs
Uncover hidden gems
The streets of San Antonio hold secret treasures, waiting to be discovered. By embarking on a street art tour, you'll venture off the beaten path, exploring vibrant neighborhoods and uncovering hidden art gems that lie tucked away in unexpected corners.
Step into one of the largest outdoor art galleries in Texas
San Antonio's street art scene is thriving, with numerous talented artists leaving their mark on the city's walls. Going on a street art tour allows you to witness the latest creations by both local and international artists. From large-scale murals to smaller, hidden gems, you'll be amazed by the creativity and diversity of styles on display.
By going on a street art tour in San Antonio, you can support local artists and businesses. You also get to learn more about the artists and their work. Don't miss out on this opportunity to immerse yourself in the city's most iconic murals and Instagram-worthy walls. Book your San Antonio Street Art Tour NOW!